Many other topics we should be debating in this country
All eyes in our country right now are on the presidential debate. We believe that there are so many other things we should be debating in this country. These other topics tie to the investor and the American voter who have retirement accounts and investment portfolios.
Are we really ready for an interest rate hike?
If you look at this chart, you can see a down tick in jobs. The Fed has stated that this is still a solid number. The topic we should be debating is, "Are we at a market slowdown or are we at full employment?" This is important to investors because if the Fed raises rates in December, we could see a market pullback like we did last December. We are watching how the election will affect the markets, but we are also watching the Fed because their actions could really make the market go up or down.
Good for the economy – bad for the markets
Individual earnings and wages are up. This is good for individuals and the economy but bad for companies. Companies have to pay these wages. This is why we have seen S&P 500 companies' earnings drop for five straight quarters. What is good for the economy is not necessarily good for the markets. When the Fed sees the individual wage increase, they may raise interest rates. While this is good for people who are saving using bank bonds, it is not good for the markets. This could be the 6th quarter in a row that we have no corporate earnings increases. Another question to be debating is, "Have the markets really gone up, in spite of low earnings, because of the lower interest rates?"
A global disturbing trend
One of the disturbing trends we see coming out of the IMF meeting is that in elections around the world there is a lot of talk about high trade barriers. This hasn't been debated this heavily since the late 1930's. When there are high trade barriers, prices on everything go up about 10%, exports drop around 15%, and ultimately it puts a 2% drag on the world-wide economy. This is a trend we are very concerned about because it would technically put us in a recession.
Avoiding a recession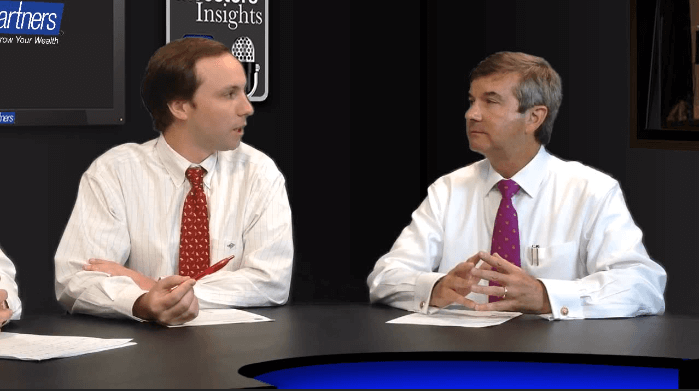 We believe the IMF, central bankers, and economists are fearful that their models do not know how to take in to account a shrinking global economy. Since these metric models were built in the 70's that predict the future, they always assumed growth and globalization. Many people are talking about "peak globalization" but it appears that their models do not know how to deal with it. It is very hard for the IMF, the Federal Reserve, and others to come out and say, "We are just not sure or there is uncertainty here."
Not afraid of this conversation
We are not afraid to have this conversation because we believe that knowledge can help you overcome your fear. As we move forward, we want to give you as much knowledge as we can as to why the markets are moving the way they are.
Please let us know what other topics you would like us to discuss.
---
Questions
"*" indicates required fields
Greg Powell, CIMA
President/CEO
Wealth Consultant
Email Greg Powell here
Ashley Page, JD, MBA
Senior Vice President
Wealth Consultant
Email Ashley Page here

Bobby Norman, CFP®, AIF®
Senior Vice President
Wealth Consultant
Email Bobby Norman here
Trey Booth, CFA®, AIF®
Vice President
Senior Vice President
Email Trey Booth here
Fi Plan Partners is an independent investment firm in Birmingham, AL, serving clients across the nation through financial planning, wealth management and business consulting. Fi Plan Partners creates strategies in the best interest of their clients using both fee based investing and transactional investing.
The opinions voiced in this material are for general information only and are not intended to provide specific advice or recommendations for any individual. All performance referenced is historical and is no guarantee of future results. All indices are unmanaged and may not be invested into directly.
Economic forecasts set forth in this presentation may not develop as predicted.
No strategy can ensure success or protect against a loss.
Stock investing involves risk including potential loss of principal.
Podcast: Play in new window | Download